[The Point] Former Point sports editor congratulates counterpart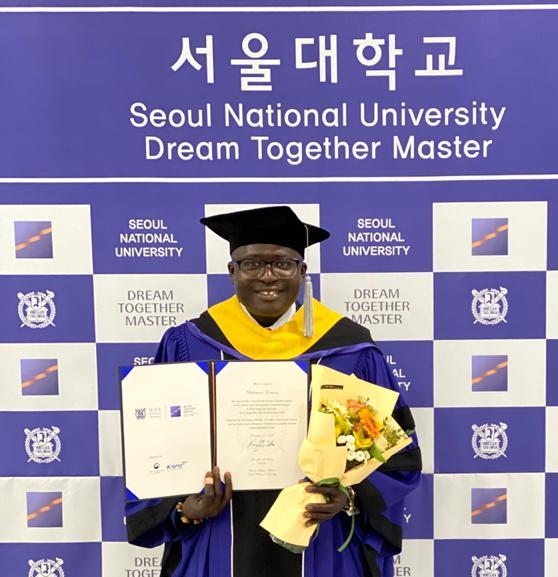 Lamin Drammeh, former sports editor, The Pointnewspaper has congratulated his friend, brother and colleague in the media, Baboucarr Camara, on the completion of his studies in South Korea.
Camara bagged a master's degree in global sports management from the prestigious Seoul National University (SNU).
In 2019, Camara who goes by sobriquet Njies was awarded a scholarship to study global sports management by the Korean government. The program dubbed, 'dream together, master's' (DTM), is part of initiatives aimed at developing sports administrators around the world by the South Korean government. It is also intended to consolidate international Sports cooperation via global networking.
Njies became the first Gambian to bag a master's degree in sports management, indeed a remarkable accomplishment for the former West Coast radio and Daily Observer news anchor.
Njies is a serving member of The Gambia Football Federation, occupying the role as Marketing & Communications director.
From Nusrat High School, Njies joined the media and started his journalism career with West Coast Radio in 2006. He had one-time served as editor of Gambia Sports online during his time with West Coast radio. He later joined the defunct Today Newspaper and then Daily Observer newspaper where he had served as sports editor, senior news editor and deputy editor-in-chief.
He controversially resigned from the paper during the political impasse following disagreements with the company's management over editorial issues.
Njies subsequently joined The Gambia Football Federation first as human resource manager. He was later promoted as marketing & communications director by the federation.
Njies had a successful career as a journalist. And in a quantum career leap, he traveled to England to cover the 2012 London Olympic Games, in what was the biggest highlight of his professional career.
Njies also holds a diploma certificate in mass communication from Stratford College The Gambia and a bachelor's degree in journalism and digital media from the University of The Gambia.
"Those of us who had closely worked with Njies would attest to his hardwork, commitment, perseverance and a never-say-die attitude towards his work". These traits enabled him to defy odds hence I'm not surprised by his achievements", said Drammeh.
In a grand scheme of things, he's a remarkable human being who is willing to conquer mountains and break barriers in his bid to excel to the highest desirable heights. We wish him the very best of luck for the future. Meanwhile, Njies is expected back home this morning.
Source:https://thepoint.gm/africa/gambia/sports/former-point-sports-editor-congratulates-counterpart