Contact Info
Dream Together Master, Division of Global Sport Management Talent Development Building 153, Room 316, Seoul National University 1 Gwanak-ro, Gwanak-gu, Seoul, Republic of Korea 08826
국제스포츠행정가양성사업단 서울특별시 관악구 관악로1 서울대학교 153동(우정원) 316호 08826
- Email : snugsm@snu.ac.kr
- Phone : +82-2-880-2984~5
- Fax : +82-2-888-2985
Public Transportation
Subway
Subway Line No. 2 (Green Line), Seoul National University Entrance Station (Exit No. 3) Even though Seoul National University is near the entrance station, it is not within the walking distance.You will need to take a bus or a taxi to get to the university. Be sure not to confuse the Seoul National University Entrance Station with the Seoul National University of Education/Court or Prosecutor's Office Station. After exiting from exit no.3, walk towards the Gwanak-gu Office. Take public bus number 5511 which circulates the campus clockwise, from the university's main entrance to the Administration Building. You should get off at the Business Administration Bldg station which is the 4th station from SNU subway station. If you cross the street towards the business administration building(Bldg #58), you will see the bldg #153 on your left. Cross the street once again and our office is located on the third floor.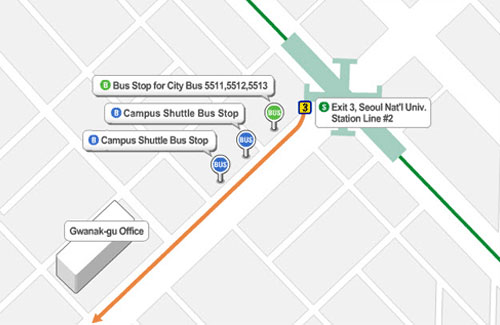 Public Transportation
Limousine Bus
The 'Limousine bus' is a convenient and inexpensive way to get to SNU Gwanak Campus from Incheon International Airport. Take airport limousine bus number 6017 or 6003. The bus 6017 comes directly from Incheon to SNU rear gate (Hoam Faculty House) within 70 minutes. The bus 6003 comes to SNU main gate via Gimpo Airport, and it takes 110 minutes under normal traffic conditions. Service is available everyday from early morning to night time at Incheon International Airport with no charge for the baggage.
Taxi
The taxi fare for coming to SNU Gwanak campus from Incheon International Airport is around 60,000 won depending on the traffic situation. By Deluxe Taxi (Mobeom Taxi), which offers kinder service, the approximate fare is 80,000 won.
Please click here for further inquiry