[SNU NOW] SNU Grants Honorary Doctorate Degree to Thomas Bach, the IOC President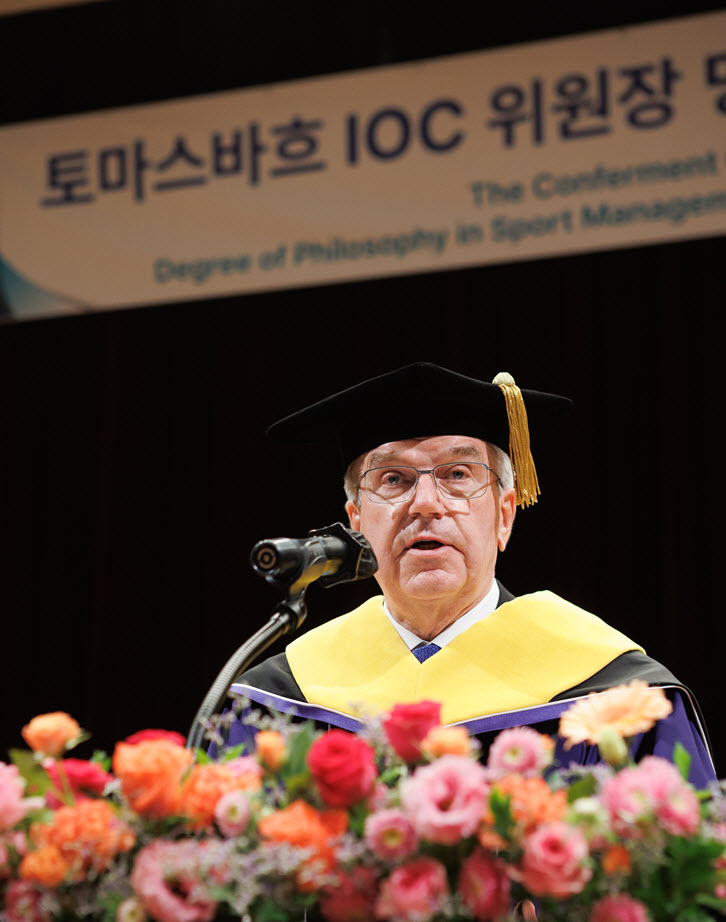 SNU Grants Honorary Doctorate Degree to Thomas Bach, the IOC President
Translated by Jungyun Oh (Department of Aesthetics)
Seoul National University (President Oh Se-Jung) awarded an honorary doctorate degree in Sports Management to Thomas Bach, the president of the International Olympic Committee (IOC), for his dedication to creating a peaceful and harmonious world through sports. The award ceremony was held at 11:30 p.m. on October 18, 2022 (Tuesday) in the auditorium of the Cultural Center. Seoul National University has awarded honorary doctorate degree to 113 people, including the late WHO Director-General Lee Jong-wook and HYBE Chairman Bang Si-hyuk.

Thomas Bach, an Olympic fencing gold medalist and lawyer, has contributed to world peace and harmony by realizing the spirit of fairness and equality through sports and law since 2013.

In particular, IOC President Thomas Bach played a decisive role in forming a unified women's ice hockey team at the 2018 Pyeongchang Winter Olympics by leading the UN Olympic Truce for the PyeonChang Winter Olympics and contributing to the Olympic Korean Peninsula Declaration. In addition, he actively took the lead in promoting a project to build an Olympic Youth Development Centre for young people in the least developed countries which provide opportunities for young people to participate in sports, and establishing the Olympic refugee team.
To read the full article click the link.
https://en.snu.ac.kr/snunow/snu_media/news?md=v&bbsidx=138479