8th Student Profile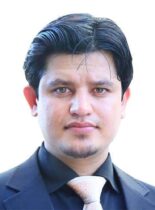 Zabihullah Shahzaad
Nationality: Afghanistan
Date of Birth: 1991.0321
EDUCATION
01 Sep 2020 – 31 Dec 2021 Master of Global Sport Management
Seoul National University / South Korea
Completed Master's degree in Global Sports Management at Dream Together Master Program of Seoul National University in South Korea.
21 Mar 2010 – 31 Dec 2013 Bachelor's in Physical Education
Kabul Education University _ Shaheed Prof.Rabbani Education University, Kabul/Afghanistan
Completed bachelor's degree of Physical Education with A+ Grades of All 8 Semesters.
1997 _ 2008
Baccalaureate degree
Mohammad Alam e Faiz zad High School , Kabul / Afghanistan
Graduated from Mohammad Alam-e-Faiz Zad High School with great scores.
WORK EXPERIENCE
WORK EXPERIENCE
at Sport Media
21 Mar 2017 – Present Media, Marketing & Event Manager
Afghanistan National Taekwondo Federation (ANTF) Kabul / Afghanistan
- Organized weekly, monthly and yearly events for Afghanistan Taekwondo Federation beside cooperation for sponsorships and support of Afghanistan Taekwondo Federation events and Athletes.
- Worked as member of Media committee at Taekwondo Asia as Afghanistan's representative and managed social media channels of ANTF along creating reports for national and international medias.
Jan 2017 – Present Volunteer Media staff for promoting Afghanistan sport
Afghanistan National Olympic Committee (ANOC) Kabul / Afghanistan
- Consulted the ANOC Media office for technical media Coverage of International Multi sporting events, continental and national major matches and championships and organized the chain of links between media and governmental sport organization for better cooperation and financial sponsorships.
05 Jan 2016 – Present Member & Executive Board Member "AIPS" & ASJF
Member of International Sports Press Association (AIPS) & Board Member of Afghanistan Sports Journalists Federation (ASJF) Lausanne/Switzerland, Kabul / Afghanistan
- Struggled for rights of Afghanistan athletes and teams for attracting support of related governmental organizations through specialized workshops, sport journalists congress meetings and public awareness programs in schools and universities.
- Pictured the real Image and situation of Afghanistan National Teams and athletes professional and private life to the world media and sponsoring agencies by creating documentary contents for social channels and International Sport Media Awards.
21 Mar 2018 – 01 Nov 2018 Sport Journalist, TV Presenter & Producer
MOBY Media GROUP "TOLO TV" Kabul / Afghanistan
- Worked as Leading Presenter and Producer of Afghanistan Fight Night Live TV show and Beyond the Fight Night Weekly Talk Program with attending athletes from Afghanistan and abroad countries as peace building scenario through sports.
- Worked as Live TV host and producer at Warzeshgah Segment of Bamdad-e-Khosh Morning TV program and Live Martial Arts commentator at TOLO and Lemar TVs and their Social Media channels
01 Jan 2013 – 31 Dec 2017 News Manager, Olympic Sports and Martial arts Commentator
3Sport TV Kabul / Afghanistan
- Managed sports News reports, presented and produced sport matches and worked as Live News TV Anchor for the National and International events.
- Worked as first Olympic Sports and Martial Arts commentator and announcer for the ever first specialized Sport Television of Afghanistan
WORK EXPERIENCE
at Sport Management & Couching
01 Jan 2019 – Present
Founder & General Secretary/Marketing Committee Member
Afghanistan Table Soccer Federation (ATSF) Kabul/Afghanistan
International Table Soccer Federation (ITSF) Nantes/ France
Founded the Afghanistan Table Soccer Federation in Jan 2019 for the first time in Afghanistan's Sport History and till now working as Founder and General Secretary of this honoured sport federation for team management, organizing events and trainings.
Started working as Marketing Committee member at International Table Soccer Federation Since 2021 after getting votes from the ITSF congress and executive board members in 2021.
01 March 2017 – Present Founder & General Secretary
Afghanistan Sepaktakraw Federation _(ANSF) Kabul/Afghanistan
Founded the Afghanistan National Sepaktakraw Federation that is officially recognized by the Asian Sepaktakraw Federation for the first time in Afghanistan and leading the ANSF team for event management and training requirements.
21 Mar 2013 – 31 Dec 2014 Physical Education Lecturer
Physical Education & Sport Sciences Institute (PESS) Kabul/Afghanistan
Worked as sport subjects' lecturer and taught Theory and Practice of Athletics, Taekwondo, Table Tennis and the history of Ancient and Modern Olympics for the Sport Sciences Institute students in a 2-year graduation program.