5th Student Profile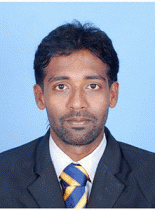 Sivarajah, Gobinath
Nationality: Sri Lanka
Date of Birth:
EDUCATION
Seoul National University, Korea
Master's in Sports Management (Dream Together Master)
University of Jaffna, Sri Lanka
Bachelor of Science in Statistics
WORK EXPERIENCE
• Consultant, National Olympic Committee of Sri Lanka, Jun 2019 - to date
• IAAF Level - I National Technical Official, AASL, May 2019 - to date
• Manager, Tharjini Sivalinagm, World No.1 Netball Shooter, Jan 2016 – to date
• Internship, Member Relations and Development Dept., World Taekwondo HQ., Jan - Feb 2019
• Travel Consultant, Carlton Leisure (UK) Ltd., Sri Lanka, Sep 2012 - Aug 2017
• Lecturer, Dept. of Mathematics & Statistics, University of Jaffna, Nov 2011 - Jul 2014
• Visiting Lecturer (Chartered Accountancy), K-Aims Jaffna Institute, Oct 2013 - Sep 2014
• Marketing Manager cum Lecturer (CIMA), Spectra Skills (Pvt.) Ltd., Jul 2014 - Jan 2015
HONORS AND AWARDS
• Appointed as "Advisor" by the World Police Taekwondo Federation, 2019
• Awarded "NIFISA" Scholarship by the National Institute of Fitness and Sports, Japan, 2018
• Awarded 'International Student Peace Ambassador' by the UNIKOREA Foundation, 2018
• 2nd Winner in the 1st Peace Contents Festival 2018, South Korea, UNIKOREA Foundation and Global Peace
• A T Nugegoda Award, 2012 and Major General P Fernando Award, 2010 for national top marks at the National Athletics Officiating Grade III & IV examinations, Athletic Association of Sri Lanka
• E Sabalingam Memorial Award for the Best All Round Sportsman at the University of Jaffna, 2011 
• Sri Lanka Universities Sports Association (SLUSA) Colours Award, 2011
• University of Jaffna Colours Award for Athletics, Hockey and Basketball, 2008-2011
• 1st Place at All Island School Inventor's Exhibition, Sri Lanka Association for the Advancement of Science, 2002
EXTRACURRICULAR ACTIVITIES
• Launched the Road to Champion Project funded by World Taekwondo 2019
• Lecturer at Sri Lanka Athletics Association
• Advisor to initiate Sri Lanka Police Taekwondo Federation by the World Police Taekwondo Federation
• Panelist, 'Sports for Peace', Dream Together Seoul Forum 2018, Seoul National University
• Appointed as International Student Peace Ambassador by Unification of Korea, 2018
• Acted a short film: "How to Speak Korean Faster", 2018
• Facilitator for the National Olympic Academy Sessions, NOC SL, since 2015
• Founded "Jaffnaz-Roar" to promote University of Jaffna Sports and published a Magazine
• Initiated IDSDP-April 6 in Sri Lanka from 2015 and Organizing events during the period
• Asst. Secretary of Sri Lanka Hockey Federation, Treasurer of Jaffna District Hockey Association 
• Managed Jaffna District Hockey Team, Organising Tournaments, Coaching Camps & Seminars
• Tai Chi Qigong Shibashi Instructor by Tai Chi Qigong and Feng Shui Institute, 2013.
• Tai Chi for Diabetes and Arthritis Instructor, Dr Paul Lam Tai Chi for Health Institute, 2014.
• Produced a Documentary Film: "Battle for Freedom" on Post-war Situation in Sri Lanka with Queenie Sophie Man, Hong Kong Journalist, 2012
• Contributed to HETC Project, Curriculum Designing for Sports Science Unit
• Managed University of Jaffna Sports Teams, 2011-2014.
• Local Organising Committee member in the JUICe-2012 and Editorial Committee member, 2014.
PERSONAL
Languages: Tamil, English, Sinhala, Korean
Interests: Sports, Traveling, Reading, Music, Hiking