7th Student Profile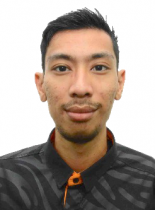 Sazali, Razif
Nationality: Malaysia
Date of Birth:
EDUCATION
• Seoul National University, Korea
Master's in Sports Management (Dream Together Master)
• Universiti Teknologi MARA (UiTM), Malaysia
Bachelor of Sports Management (First Class Honours)
• International Qualification
London Chamber of Commerce & Industry-UK (LCCI Accounting) Level 2
WORK EXPERIENCE
• 2019: Management Team and Tenpin Bowling Coach, Itqan Sports (NGO).
2017-2018: Sports Manager (High Performance Athletes Management and Media Officer at Corporate Communication Unit), National Sports Institute of Malaysia.
• Others:
- Tournament Technical Director for university games (UiSF, KARISMA, etc).
- Technical Team for local and international tenpin bowling games such as Malaysia Open, National Championship and others.
- Team Manager (Malaysian Team) for 10th Fazza International Athletics Championship 2018 – World Para Athletics Grand Prix, Dubai, UAE.
HONORS AND AWARDS
• 2020 Best Thesis Award, DTM-SNU (Master's Degree).
• Bronze Medal (3rd Place). COVID-19 Report Series. The Trend, Impacts, and Post COVID- 19 Challenges: Malaysia. Presented at SNU Asia Regional Information Center (ARIC) South Korea.
• 2017 Honour Recipient of Best University (UiTM) Graduates receiving the Gold Medal of Vice Chancellor Award conferred by His Majesty Seri Paduka Baginda Yang Di-Pertuan Agong XV Sultan Muhammad V.
• 2017 UiTM Vice Chancellor Award Recipient (For Excellent Overall CGPA).
• 2017 Best Student for Faculty and Program by Faculty of Sports Science and Recreation, UiTM.
• 2012 & 2015 UiTM Sports Achievement Awards.
• 2012-2017 Full Sports Scholarship (non-bonded) by Ministry of Higher Education, Malaysia
EXTRACURRICULAR ACTIVITIES
• National Coaching Academy of Malaysia, Sports Science Certificate Level 3.
• Kayak Instructor (Star 1 and Star 2) Malaysian Board of Canoe Malaysia (MBOCE).
• Tenpin Bowling Achievements (selected):
- 2012-2017 Team Captain for the university bowling team.
- 2015 Malaysian National Championship: Men's Graded Champion.
- 2014 & 2016 Malaysia Higher Education Institutions Games (SUKIPT): 3 Gold.
- 2012 Asian University Bowling Championship: Gold.
PERSONAL
PERSONAL
Languages: English, Malay (Native)
Interest: Travelling, Networking and Food Hunting
Email: razifsazali@gmail.com