5th Student Profile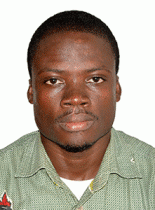 Monyo, John
Nationality: Ghana
Date of Birth:
EDUCATION
Seoul National University, Korea
Master's in Sports Management (Dream Together Master)
Kwame Nkrumah University of Science and Technology
Bachelor of Science in Physics with Electronics
WORK EXPERIENCE
• Customer Support and Marketing (African market) – Autowini.com (Korea #1 auto trades platform)
• IT Support Assistant – University IT Services (UITS) KNUST (NATIONAL SERVICE)- SEP 2015 – AUG 2016
• Team Member, Interns Training 2016 at Network Operations Centre (NOC) KNUST
• Voluntary Teaching in Heaven Grace Academy, Kisseman, Accra and Torve Junior High School during long vacations whiles in KNUST.
• Science and I. C.T. Teacher, Heaven Grace Academy Kisseman, Accra. APR 2011- AUG 2011
• Class Four Teacher Covenant Preparatory School, Tefle/Sokpoe JAN 2010 – FEB 2010
EXTRACURRICULAR ACTIVITIES
• President International Students Organization, Seoul National University
• Cross Community Sport Development Workshop Level Two Certificate University of Brighton
• Member of the Organizing Committee, GHASKA Sports Festival 2018
• Participant, 4th Position 2018 Seoul National University Run (10 Km)
• Participant, 2017 SonKeeChung Peace Marathon (10 Km)
• Assistant Coach (KNUST Netball Team), 17th MINI Ghana University Sports Association (GUSA) Games, UCC
• Cadet Lieutenant/Second in Command (CADET 2IC) Conti Dome Military Organization of Ghana (CDMOG) KNUST 2014/15 ACA. YR.
• Member of the KNUST Cross Country Team- Mini GUSA 2014 UCC
• Cadet Physical Training Instructor, CDMOG KNUST 2013/14 ACA. YR.
• Organizer, College of Science Christian Council 2013/14 ACA. YR.
• Assistant School Prefect (ASP), Sogakope Senior High School 2008/9 ACA. YR.
PERSONAL
Languages: English, Korean
Interests: Research, Good governance, Sports, Reading, Christ Evangelism