8th Student Profile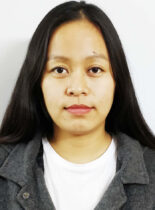 Heshu Kajiiloni Krichena
Nationality: Indian
Date of Birth: 30
EDUCATION
Aug 2020-2022 SEOUL NATIONAL UNIVERSITY Seoul, South Korea
Master in Global Sports Management, Dream Together Master Program
•Concentrated on International Sports Management, Sport Humanities, Sport Event Management, Sport Organization and Governance, Sport Marketing and Sponsorship, Sport Science and Technology, Sport Finance and Economics, Sport Media and Communication, Sports Development, Sport Law and Arbitration.
•Certificate for participating in 2020 DTM – Inside Untact Walking Program
•Certificate for participating in 4th Imagine Peace Youth Camp
•Certificate for participating in Strengthening Public Governance and Accelerating Innovation to achieve the 2030 Agenda for Sustainable Development
November 2015 Delhi University New Delhi, IND
Bachelor of Arts
•Concentrated on Education, English, Entrepreneurship & Small Business, History, Human Rights, Gender & Environment Political Science.
May 2008 Greenwood Higher Secondary School Nagaland, IND
•Concentrated on Alternative English, Economics, Education, English, History, Political Science.
WORK EXPERIENCE
Feb – March 2022 South Asian Cross-Country Championships &
56th National Cross-Country Championships 2022 Kohima, Nagaland, IND
Sports Event Specialist.
•As a member of the core team at LOC, I managed the LOC's day-to-day operations in the planning, preparation, & execution of the first International Sporting event in my home state of Nagaland.
•Core responsibilities included ensuring permission from the Home Commission- Govt. of Nagaland, coordination with the Security agencies, internal communications & external communications with the Athletics Federation of India, other participating International teams, coordination with logistics, transportation, volunteers & accommodation teams.
•Assistance to the branding-PR-Media operations team, AFI technical team and coordination with the Protocols department.
Jan – Feb 2022 Asian Football Confederation Women's Cup 2022 Pune, Mumbai, IND
Team Liaison Officer (Team Korea).
•Overall, in charge of Korea women's football team related to flights, airport operations, accommodation, transportation, medical and training management.
•Co-ordinate with AFC and LOC during the competitions on behalf of Team Korea.
Oct 2019-Dec 2022 MERAKI SPORTS & ENTERTAINMENT PVT LTD. Mumbai, IND
Consultant (Sports: Talent Management)
Meraki Sports & Entertainment Pvt. Ltd on the premise of building brands through sports is India's only integrated marketing services company for brands in sports with expertise across advisory, Rights management, Talent, Experience and IPR. Works with various federations, teams, leagues & properties to drive revenue and enhance salience.
•Identify talent across various sports, manage athlete relations and promote talent. Documentation, negotiations and contracting athletes.
•Assist and advise on various events
Jul 2019- Apr 2020 Asian Tennis Federation New Delhi, IND
Communication Manager,
The Asian Tennis Federation (ATF) is a non-profit organization affiliated with the International Tennis Federation. It is a continental body of national tennis associations of Asian Countries.
•Manage communications with various member federations of ATF
•Manage ATF website & Social Media channels – FB/Insta, also assist in weekly updating of Rankings of Asian players
Oct 2017-July 2019 Boxing Federation of India New Delhi, IND
Project Officer-Coordination & International Relation
The Boxing Federation of India (BFI) is the Indian National governing body of Boxing.
•Core responsibilities include coordination with all the AIBA member federations & manage communications with International & Indian teams as well as Coordination with various Internal & External stakeholders, Indian Olympic Associations, Sports Authority of India, Ministry of Youth and Sports Affairs.
•Planning of Travel, Visa issues, Accommodations & local transportation of Indian teams.
•Events Managed – AIBA Women World Boxing Championships, Elite Men Boxing Championships, Youth Boxing Championships, 1st & 2nd India Open Int. Boxing Tournaments, National Boxing Competitions.
July 2017 Percept Bhubaneswar, IND
Event Coordinator (22nd Asian Athletics Championships)
•Responsible for accreditation of workforce & volunteers for Opening & Closing Ceremony
•Assist operations team in planning & coordination of various groups involved in Opening and Closing ceremony.
Nov 2015- Feb 2016 12th South Asian Games Guwahati, IND
Administrative Executive (Communications FA), Venue Media Manager (Hockey)
•Core responsibilities included assisting in overall day to day operations of the Communications FA within the Games Organizing Committee. Assisted in publications, venue branding, PR & Media Operations.
•Managed media operations in the capacity of Venue Media Manager during Games time. Assisted Transport, VDO & Branding FAs in managing media transport facilities, catering services & branding of the venue.
•Managed a team of Media operations volunteers & mascot Volunteers at various events.
ADDITIONAL EXPERIENCE
July-Dec 2013 Kastros New Delhi, IND
Manager
•Core responsibilities included managing inventory, expenses, reviewing sales performances. Employee management. Manage the display of merchandise, product placement, ensure goals and sales targets of the store are met by maximizing sales and gross profit.
Mar 2010 –2012 Vertex, British Airways New Delhi, IND
Executive Associate
•Assisting customers with online air ticket bookings, technical support and assistance on wheelchair and managed minor flight bookings.
EXTRACURRICULAR ACTIVITIES
Language English (Fluent), Hindi (Fluent), Mao (Fluent), Angami (Fluent), Korean (Beginner)
IT Proficiency Good Competency in MS Word, PowerPoint.
Interests Sports & outdoor activities, travelling & music.
Certificates Received Certificate A of National Cadet Corp from Ministry of Defense, Government of India.