8th Student Profile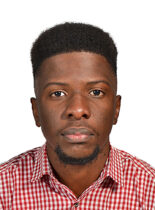 Dagwi, Nyaladzi
Nationality: Botswana
Date of Birth: 31
EDUCATION
Seoul National University, Korea
Master's degree in Sport Management (Dream Together Master Program)
University of Botswana, Botswana
Bachelor's degree in Physical Education
WORK EXPERIENCE
Sport Development Officer, Technical Department, Botswana National Sports Commission, Botswana (August 2019 – August 2020)
•Ensured the implementation of the code's strategic plans (short, medium and long-term development) through monitoring, evaluation and consultation with stakeholders such as Botswana National Sports Commission, Botswana National Olympic Committee sponsors, coaches, players and parents.
•Initiated tournaments and workshops aimed at improving the standard and quality of the code's performance and maintained skills data bank of trained technical officials
•Facilitated the involvement of regional and international qualified personnel in sports development activities in the country. I achieved this by inviting International Tennis Federation facilitators to conduct coaching clinics to upgrade local coaches and also facilitate officiating courses.
Physical fitness trainer, Extension Gunners Football Club, Botswana
(June- August 2019)
•Identified players level of fitness and designed programmes suitable for them, conducted individual and group training and tracked overall progress of players until they were ready to compete.
•Ensured proper use of fitness equipment to ensure proper exercise and safety for all the players and led conditioning session at training, during league and cup games. I also helped players overcome anxiety by offering eating tips, sleeping tips and general motivation to help improve their performance.
PERSONAL
• Languages: English (Fluent), Setswana (Fluent), Korean (Basic), Kalanga (Native)
• Interests: Sports, Reading, Traveling, attending musicals and movies