4th Student Profile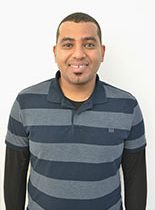 Alriyami, Khalid
Nationality: Omani
Date of Birth:
EDUCATION
Seoul National University, Korea
Master's degree in Sport Management (Dream Together Master Program), 2017
Diploma in Advanced Sport Management, International Olympic Committee (IOC), Muscat, 2015
Sultan Qaboos University, Oman
Bachelor's degree in Physical Education, 2006
WORK EXPERIENCE
Sport Activity Specialist, Oman School Sport Association, Ministry of Education, Oman (Feb 2014 – Present)
Eight - years' experience in teaching Sports Subject in high schools in Oman (2006-2013)
Soccer coach for Bahla football team (2006-2013)
HONORS AND AWARDS
As a soccer coach: achieved the second place with Bahla football team, in the Omani League U-21, 2010-2011.
EXTRACURRICULAR ACTIVITIES
- Courses and Conférences:
· Preparing Trainer/ Lecturer Course, The main training center, Ministry of Education, Oman, Mar 2015.
· The international workshop on Designing Educational Buildings, organized by the Dutch Embassy, Oman, October 2014.
· English courses, intermediate, upper intermediate and IELTS Preparation course for five months - Sultan Qaboos University 2014/2015.
· IC3 course, Feb 2011.
· International Certificate in Adobe Photoshop, May 2013.
· Sports Psychology course, organized by Ministry of Sports Affairs, from 11th to 13th Nov 2013.
· Graphic Design, 3D, and Virtual Reality course, hosted by the Information Technology Authority, April to July 2013.
· Football Coaching License from The Asian Football Confederation: Level (B) June 2011, Futsal course, Nov 2011, Level (C) Dec 2008.
· Basics of Sport Coaching course at SQU, 1st to 12th Jan 2005.
· Representing the Ministry of Education in the International Conference on Hospitality, Leisure, Sports and Tourism, Bangkok, from 20 to 24 Jan 2015.
- Committees and Participations:
· Participate in the preparation of the Ninth Five-Year Plan (2016-2020) of the Department of educational activities, Ministry of Education, Oman, 2015.
· Member of the organizing committee of the Asian Zonal Chess Championship-2015 Men & Women Zone 3.1, 16th to 25th May 2015, Muscat, Sultanate of Oman.
· Member of the organizing main committee of the School Sports Competition and Omantel School Olympic days, 2013/2014 - 2014/2015.
· Liaison Officer for Korea Republic football team U- 22 in the Asian championship, Muscat 2014.
· General administrator of Oman school National Team, 1st Gulf school Championship handball, Saudi Arabia, from 27th Feb to 7th March 2015.
· Member of the Organizing Committee for the Jeem tv Cup qualifiers, JCCTV, Muscat, November 2014.
· A member of the organizing committee for the Oman Championship Chess, Dec 2014
· A member of the media committee in the reception of the High Procession in Saih A'Shamikhat, Jan 2013.
· A Member of the organizing committee of "Arabic Language in Education, Identity and Creativity" Conference, SQU, 2004.
· A Member of the organizing committee of " Towards Better Education/ preparing for Future Teachers" Conference, SQU, 2004
· The head of Media Committee in Sports Group and Society at SQU, 2004- 2005.
· coordinator of Education Society at SQU, 2004/2005.
· Participant in the first Higher Education Students Gathering, SQU, Dec 2004.
· Participant in the training camp for preparing P.E students to work in scout field, from 16th to 18th Feb 2005.
· As a football Player: got the second place with the SQU team in the football competition at the American University, Dubai, 2004.
· A football coach in the Sultan Qaboos University summer camp, from 11 June to 13 July 2005.
PERSONAL
Languages: English (Fluent), Arabic (Native)
Interests: Sports, Graphic Design, Reading.